» BLACKLIGHT REACTIVE Permanent INVISIBLE INK UV Black Light SECURITY MARKER and SPY PEN
BLACKLIGHT REACTIVE Permanent INVISIBLE INK UV Black Light SECURITY MARKER and SPY PEN
Highly effective permanent invisible ink marker for securitizing just about anything
$8.65
---
INVISIBLE INK MARKING PEN
PROFESSIONAL VERSION III
BLACKLIGHT ULTRAVIOLET U.V.
HIGH QUALITYEXTREMELY PERMANENT INK

---
U.V. ink lights up brightly under any blacklight,
BUT can't be seen in daylight or room lightUnlike most UV pens, this stuff is
very, very hard to wash off
Works magically on:
Metal, glass, plastic, fabric, paper, wood, rubber,
ceramics, and a long list of other surfaces
---
Pleassssse note: Not for applying on skin
You're getting premium solvent-based ink, vs the more common water-based UV ink
Typical invisible UV ink and ink pens, being water based, are designed to rub off easily.
Not this ! You can get it off skin with a bit of work, but it'll take some religious scrubbing.
Advantage: on most surfaces it'll stay there, intact, for many years.
---
This wondrous little pen can be extraordinarily useful over time, and may
pay for itself many, many times over if it helps you catch a fraudulent
online transaction, or retrieve stolen personal items.
It's filled with a proprietary ink formula that won't leave a trace
and is completely undetectable by the naked eye.
Under blacklight, however, VOILLA !! It lights up in bright neon-glow fashion.
•
Writes smoothly on virtually any surface
-
Secretly mark a liquor bottle if you think someone
(kids, for instance) is drinking from it
- Invisibly mark where an object, door, etc is resting:
it it's been moved, you'll immediately know
- Know for sure that the new mechanic you're using actually replaced a part:
simply mark your old one before repairs begin (and ask for it back)
BEFORE AND AFTER
….. HOW IT LOOKS ON GLASS
EASILY MARK YOUR STUFF IN CASE OF THEFT
Smartphones
iPads
iPods
iPhones
PDA's
Purses
Wallets
CD's
DVD's
Industrial manufacturing, marking and coding
Laboratory testing
Teaching / student demonstrations
Science experiments
Espionage (go ahead, laugh, it's part of superpower history)
- Kid detectives can write secret messages, draw spy maps for their friends
-Take notes you don't want other people to be able to read
- Mark returned items if you're an online seller
- Write computer passwords in invisible inks
-Magic tricks
- Many other uses not listed here, including uses you'll dream up on your own

MEDIUM POINT TIP

Brand new, of course. And ready for action !
BITS OF TRIVIA :

Apparently part of the plot of the movie 'Da Vinci Code' involved the use of a UV marker.
And, in 2002, a multi-prison uprising was organized using UV markers. Uh oh.
QUESTIONS FROM PAST BUYERS
And, just maybe, a few answers
---
Question :
Hello, this really seems so neat. can you put this on clothing and then
wash it without it coming out or fading all over the material ?
Thanks so much, Angela
Reply :
Hey there Angela !
Yep, will work just fine on fabric, and can't say that with 100% certainty on
all the many types of fabric out there, but it's quite unlikely it'll wash out of anything.
Hmmmm…..maybe it'd fade over a hundred washings, but again, not likely by very much.
Your best bet maybe is just try one pen only and experiment so you get a better idea
of real-world results.
Do keep in mind, too, that some natural white fabrics (cotton for instance) already
contain UV phosphors in the weave (which is why some T-Shirts glow in a
night club). Same thing for teeth. Sooooo…. UV ink won't show as well on white cotton.
---
Question :
Hi, I recently purchased a handheld black light, a keychain black light and a black
light pen from you. I just tried out the pen on regular paper and
it doesn't seem to work.
Thanks, Frank.

Reply :
Nothing wrong with your pen at all, as it turns out. I wondered how this could be,
so ran some tests here, and realized something fundamental. That is, some types
of white paper (though not all) contain natural fluorescent phosphors (present
in cotton, also in white t-shirts, your teeth, etc, which is why they glow under
blacklights at a party).
As a result, the invisible ink itself becomes invisible on bright-white
phosphor-containing surfaces because the entire surface itself responds to UV,
so it's then impossible for the ink to stand out as there's no contrast (like a piece
of white paper in snow).
Consequently, it's not just this pen, but no UV invisible pen or ink anywhere in the
world would be able to be used on white cotton-containing paper (like inkjet paper).
I did try it on a variety of other colors and it works fine.
Even on white cardboard. But on the white inkjet paper I used,
it doesn't show, so you can bet that was cotton laced paper.
Question :
I'm a seller online and think I am getting scammed by a
few bad apples, so think it is time I started marking certain
pieces of my jewelry. Hopefully this will help protect me."
Thank ! Karen
Reply :
Should do the trick Karen, best wishes !
Question :
Thank you people, the pen is cool
James.

Reply :
No, thank YOU !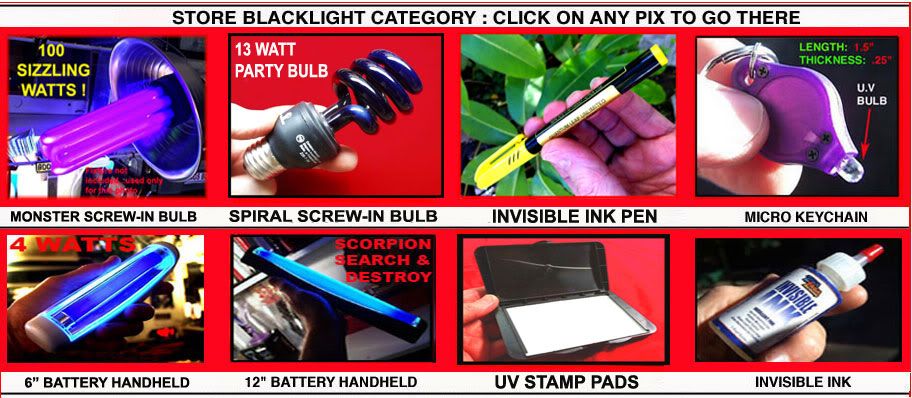 Count on ……
SUPERSONIC, and on good days, LIGHTSPEED shipping

Items usually fly out of here straightaway, and with great fanfare
(fireworks, marching band, dancing girls, that kind of thing),
so your friendly mailman should be ringing your doorbell soon after.
---
Buyer Quote :
"Tell the truth-it was in the mail BEFORE I ordered, right ?"

Or…
"Seller employs delivery methods years ahead of our time"

Plus…
"Dude, the quickness of your response borders on scary, but I certainly appreciate it."
And this, just in:
"Can't believe this. Immediately after I hit the 'pay now' button,
my doorbell rang. The package was at the door. Go figure."

---
SHIPPED FROM HOLLYWOOD, CALIFORNIA, USA
(except for occasional remote warehouse dropships to save time, of course)


Awesome double rainbow, as seen from our 3rd floor computer room window
( Dec 22, 2010 )
We were sponsoring the weather that day.
---
Usually orders zoom out of Mission Control here either same or next day as
receipt of payment (before about 3 p.m. PST usually makes it out that day).
California residents expect to add sales tax at checkout for the gods of commerce here.
Our elected leaders of all that is need new limos, jets, other stuff now and again. Hope that's ok.
SHIPPING TO MILITARY APO ADDRESSES
Easily done !
And, postal USPS basically only charges domestic U.S. ship costs
to foreign APO addresses, no matter where you are out there.
WE SHIP WORLDWIDE
We've shipped stuff to just about everywhere on the planet. Do keep in mind that some
countries may assess customs duties or fees upon arrival (often not, but sometimes yes).
Exceptions:
Some restricted items, like aerosol spray cans or volatile inks,
aren't considered aircraft-friendly these days, so those are shipped within North
America only, and only via slow-boat UPS ground.

For your considerable amusement, here's a not-that-long-ago countries list ……..
Quantum Leap Unlimited
Hollywood, California
Terrestrial orders only at this time
---